InvestingPro's Top 10 Stock Picks to Withstand Fed Volatility
google.com, pub-9809009992858082, DIRECT, f08c47fec0942fa0
The Federal Reserve is expected to raise interest rates by 25 basis points this week.
In this article, I'll highlight ten stocks well positioned to ride out further turbulence in the months ahead, according to InvestingPro.
Looking for more blue chip stock ideas to add to your portfolio? InvestingPro members enjoy exclusive access to our research tools and data. Learn more »
In what is expected to be one of the most important policy decisions in recent Federal Reserve history, the U.S. central bank is all but certain to deliver its tenth consecutive rate hike after Wednesday's meeting.
Financial markets are currently pricing a 93.2% chance of a 25 basis point hike, according to Investing.com's Fed Rate Tracker.
If the Fed proceeds with a rate hike of a quarter of a percentage point, the target range for the Fed's benchmark funds will be between 5.00% and 5.25%.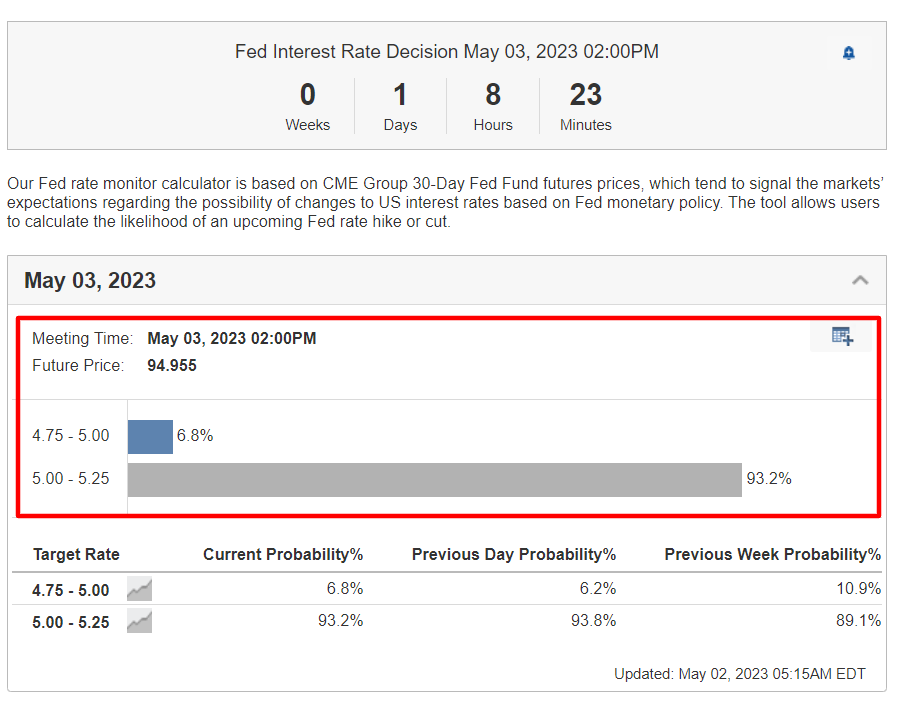 Source: Investing.com: Investing.com
Beyond the expected rate hike, all eyes will be on Fed Chairman Jerome Powell as the central bank considers whether to halt its year-long rate hike cycle. , in response to growing signs of stress in the US banking sector and fears of an impending economic slowdown.
Contrary to general opinion, I don't think the Fed is ready to end its monetary tightening campaign. Powell will instead opt to keep alive the possibility of another hike in June as inflation remains well above historical norms.
Thus, I think the key rate will need to rise another half a percentage point to 5.50% to 5.75% before the Fed considers the idea of ​​a pause or pivot in its struggle to restore price stability.
That's why I used the InvestingPro stock screener to identify the 10 companies best positioned to weather the Fed-induced turbulence in the weeks and months ahead.
InvestingPro's Top 10 Stocks
Using the I filternvestingPro, I've taken a methodical approach to narrowing down the roughly 7,500 stocks listed on US stock markets to a small list of well-established companies that can offer investors strong returns regardless of economic conditions.
Source: Investing Pro
I focused on companies with strong profitability, healthy cash flows, strong growth prospects and attractive valuations.
I first looked for companies whose return on invested capital (ROIC) was greater than or equal to 15%. It is a capital efficiency ratio used to measure a company's ability to create value for all of its stakeholders. Essentially, it gives an idea of ​​how a company uses its capital to generate profits.
I then narrowed my choice to companies whose average annual growth in profits, sales and gross profit margin has been at least 15% over the past five years.
Finally, I filtered out names whose "fair value" ofInvesting Pro was greater than or equal to 15%. The estimate of fair value is determined based on several valuation models, including price/earnings, price/sales and multiple price/book ratios.
Companies with a market cap of $20 billion or more made it to my watchlist. Once these criteria were applied, I was left with only 14 companies.
Unsurprisingly, all 14 stocks on the list currently enjoy a financial health rating above 2.75 on Investing Pro. Over the past seven years, companies with a health score above 2.75 have significantly outperformed the market as a whole, since 2016.
Here are the 10 most promising names that, according to the models ofInvesting Proare expected to offer the highest yield in the coming months.
In my view, all of the companies mentioned offer additional upside potential and plenty of room to grow their respective businesses, making them solid long-term investments.
Pfizer (NYSE: ) (increase in fair value: +37.8%)
Albemarle (NYSE: ) (increase in fair value: +36.7%)
Qualcomm (NASDAQ: ) (increase in fair value: +32.9%)
Conoco Phillips (NYSE: ) (increase in fair value: +29.4%)
DR Horton (BVMF: ) (increase in fair value: +26.4%)
Adobe (NASDAQ: ) (increase in fair value: +25.2%)
Regeneron (NASDAQ:) (increase in fair value: +21.4%)
Chevron (NYSE: ) (increase in fair value: +19.6%)
Pioneer Natural Resources (NYSE: ) (increase in fair value: +19.1%)
Diamondback Energy (NASDAQ: ) (increase in fair value: +19.0%)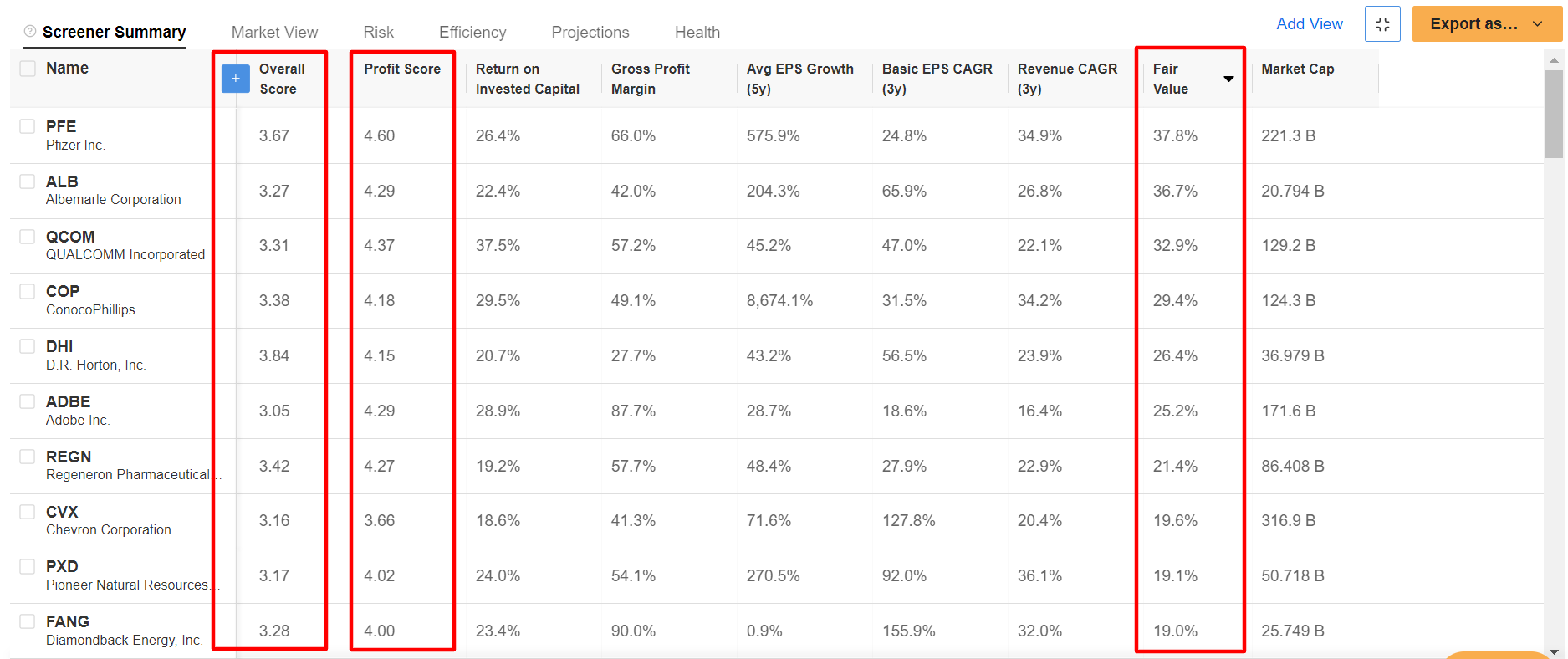 Source: Investing Pro
If you're looking for more actionable trade ideas to weather today's market volatility, theInvestingPro analysis tool allows you to identify winning stocks at any time.
here is the link for those of you who wish to subscribe to Investing Pro and start analyzing the stocks themselves.
***
Disclosure : As I write these lines, I have a position short on the S&P 500 and Nasdaq 100 via the ProShares Short S&P 500 ETF (SH) and the ProShares Short QQQ ETF (PSQ). I regularly rebalance my portfolio of individual stocks and ETFs on the basis of a permanent assessment of the risks related to the macroeconomic environment and the financial situation of companies. The opinions expressed in this article are solely those of the author and should not be considered as investment advice.