Choosing the right stocks in an uncertain market: 2 big winners for 2023
google.com, pub-9809009992858082, DIRECT, f08c47fec0942fa0
The S&P 500 is expected to remain in a tighter range due to macro risks, although near-term volatility is expected to decline.
In this scenario, stock picking is the best and surest way to achieve above-average profits over the next few months.
Applied Materials and Accenture could be market winners due to their financial health, undervaluation and positive market trends.
As the Fed nears what will likely be the last rate hike of this cycle, investors are increasingly wondering if the market will revert to a pattern similar to that seen following the COVID crash. .
But while more stability on the cost of capital side will most likely lead to a lower short-term outlook, which is generally a positive for markets, too much macro risk remains for markets to rally as if there is no had no tomorrow .
As I indicated in early January, this dilemma suggests that the index will most likely remain stuck in a tighter range than we have grown accustomed to over the past decade. And while recent data has indicated (expected) improvement on both the inflation side and economic resilience, I still consider the 4,300-4,400 to be very strong resistance for the S&P 500 over the coming months. .
The downside risk has however improved in my view. With earnings season about to give us new clues about the current state of US business, only a very negative surprise would take us below the 3,700-3,800 level.
In fact, given that the market is already expecting an earnings recession (i.e. two consecutive quarters of negative earnings growth for the S&P 500), I wouldn't be surprised if the overall picture turns once again turned out better than expected, which, in turn, should be enough to keep prices stable in the short term.
As we noted before the SVB debacle, the wild card in the game is the banking sector, particularly regional and smaller US banks. Although the situation is perceived as stable by the market in general, the lag effect of higher volatility on the bond market could still be a problem once the Bank Term Funding Program (BTFP) ) from the Fed will be exhausted. However, the positive aspect is that recent data indicates that banks' borrowing from the BTFP is decreasing from week in Week. Nevertheless, investors who wish to gauge the direction of the market should closely monitor the situation in the sector.
Against this backdrop, I see two ways to deliver above-average profits over the next few months:
Active index trading (risky). Those looking to beat the market can take advantage of the strong support and resistance levels mentioned above, as well as moving averages, and trade both sides of the market accordingly. I would advise traders going this route to hedge their positions based on their active assessment of broader macro risks (i.e. never go 100% up or 100% down). should rather be between 90%-10% and 60%-40%).
Stock selection (less risky). While the market as a whole looks set to stay within the range, the same is not true for individual stocks. Therefore, investors looking to beat the market need to keep a close eye on business fundamentals and make their decisions accordingly. InvestingPro is currently the best tool on the market for this, as it gives you all the information you need to make better, well-funded decisions that are very likely to beat the market in the months to come.
Based on data fromInvesting Prohere are two stocks I've acquired recently that I think will be market winners for this year:
1.Applied Materials
After falling nearly 35% last year (via the industry's leading ETF, ), semiconductors have rebounded strongly this year, up nearly 25% year-to-date. There are several reasons for this, but the main ones are the general resurgence of technology, investors looking favorably on stocks that were unfairly punished in last year's crash, the reopening of the Chinese economy and the shrinking expectations about the depth of a likely global recession later in the year.
Moreover, as China reiterates its threats of invading Taiwan – one of the world's largest producers of semiconductors – investors are increasingly turning their attention to American competitors. That's the argument Warren Buffett made when selling Taiwan-based Taiwan Semiconductor Manufacturing (NYSE:) last week. aiwan.
In this context, Applied Materials (NASDAQ:), based in Santa Clara, Calif., is a great option. The leading provider of manufacturing equipment, services and software for the semiconductor industry, as well as display and related industries, has several reasons that should propel its stock higher in the medium term, according to Investing Pro. Here are a few :
Management conducted aggressive share buybacks

Cash flow sufficiently covers interest payments

Sharp rise in price over the past six months
AMAT also has an excellent financial health score, according to Investing Pro.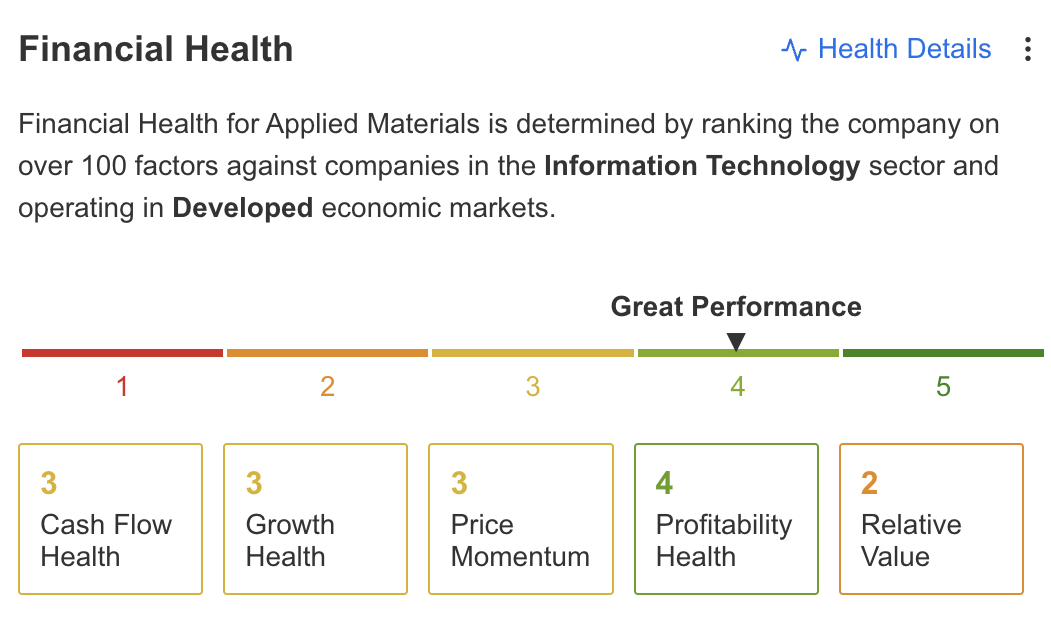 Source : Investing Pro
There company, which operates through three segments – Semiconductor Systems, Applied Global Services, and Display and Adjacent Markets – is also significantly undervalued according to quantitative models fromInvesting Pro and could be up approximately 12% over the next 12 months from its fair value of $125.08/share.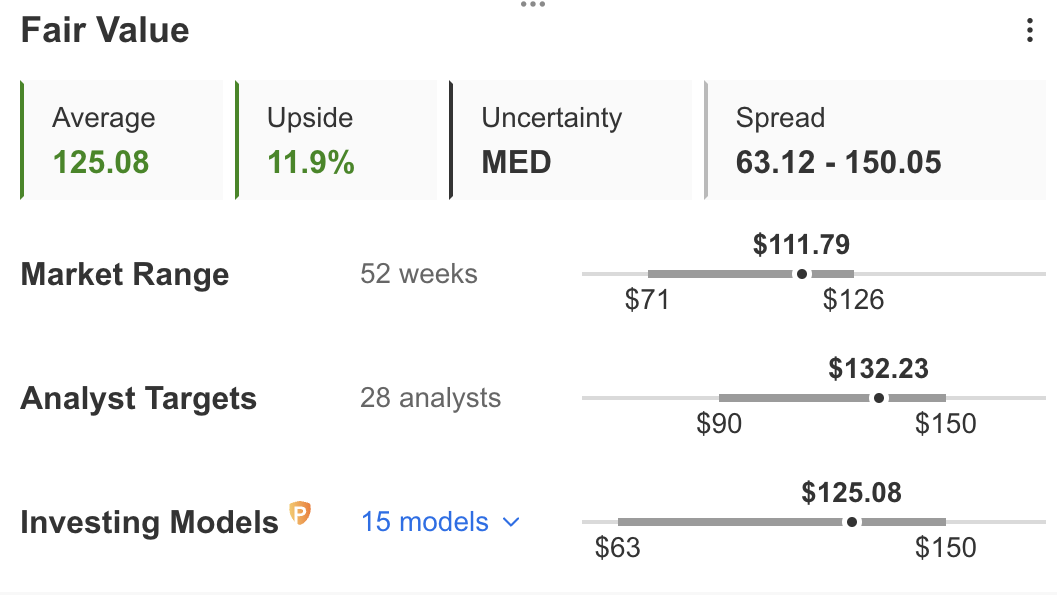 Source : Investing Pro
From a technical standpoint, AMAT is still trading below its 50-day moving average, and a break above that average would most likely send the stock soaring.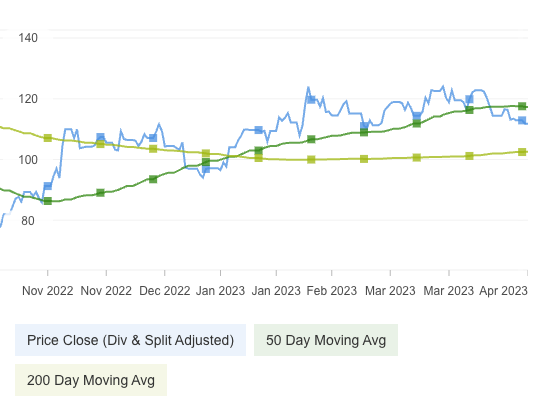 AMAT Price Vs. Moving Averages
Source : Investing Pro
The company will publish its results in a month, on May 18, and it is therefore likely to maintain its good performance, at least until then.
2. Accenture
While I don't see Accenture (NYSE:) as the new Tesla (NASDAQ:) (at least not in the short term), the Dublin, Ireland-based human resources and professional services firm has everything it needs. takes to safely outperform the market over the next few months .
In addition to the current market trend indicating a resurgence in growth stocks as the market gradually declines, the continued resilience of the US market is also a major plus for Accenture as it maintains demand for the services of the company at a high level .
This is the main reason why – unlike the US stock market in general – Accenture is expected to show solid earnings growth when it reports its financial results in June. Although analysts have cut the company's earnings forecast by 7% over the past 12 months, ACN's EPS is still expected to come in at 2.98 – significantly higher than the 2, 39 of the last trimester.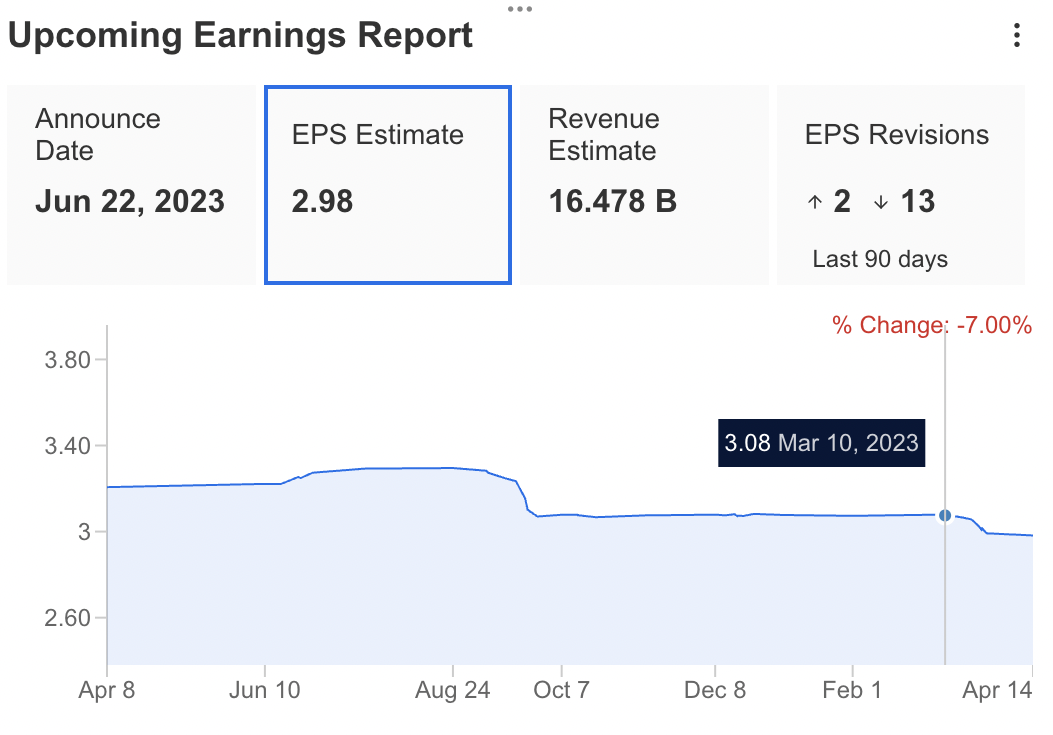 Source : Investing Pro
It's also why ACN has an excellent financial health score, according to Investing Pro.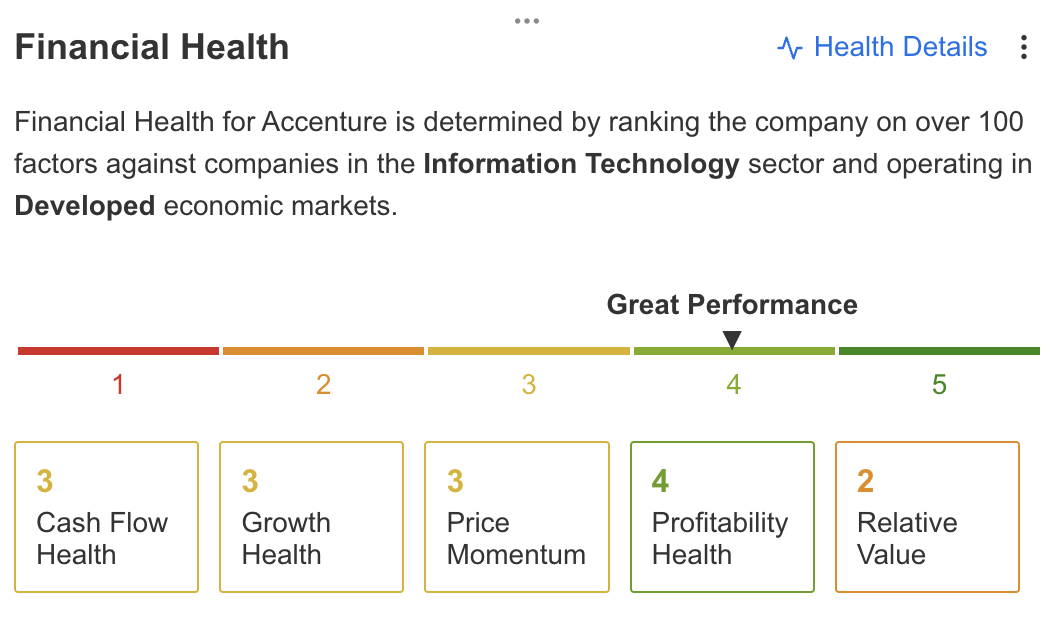 Source : Investing Pro
Additionally, the company's strong balance sheet puts it in an ideal position to ride the AI ​​trend without being too exposed to larger industry risks, such as higher capital costs, as its cash flow can sufficiently cover the interest payments. As shown in the graph ofInvesting ProAccenture's debt and financial leverage remain at solid levels, making the company more resilient than its peers in difficult times.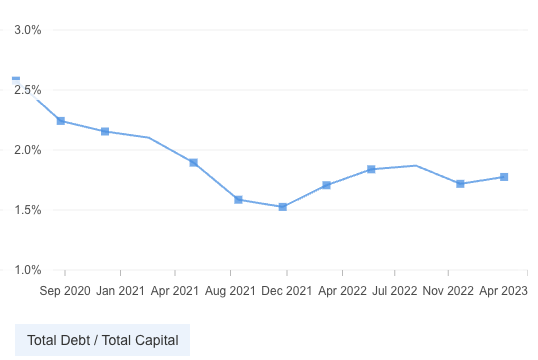 ACN Leverage and Debt
Source : Investing Pro
From a technical standpoint, ACN is trading just above its 50-day moving average. A brief break below this level could signal a buying opportunity, so watch the $275-270 levels.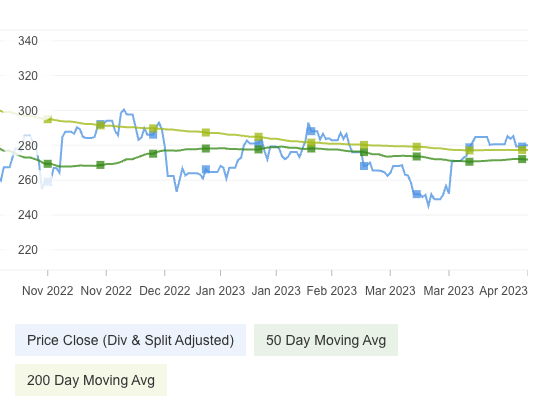 ACN Vs. 50, 200-Day MA
Source : Investing Pro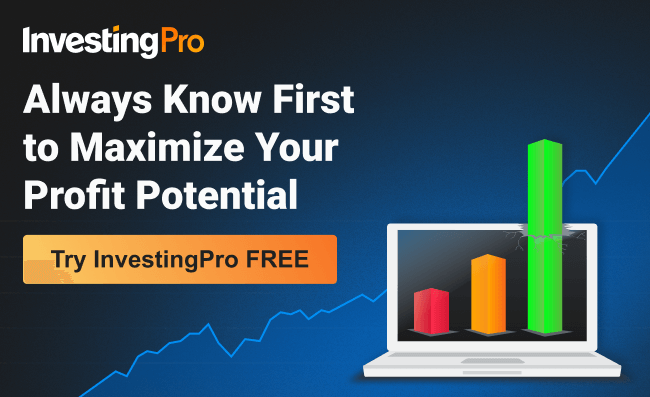 Investing Pro
Disclosure : I am long on the two stocks mentioned in this article and I hold a few short positions on to hedge volatility risks .