Chinese public finances: economic risks and structural challenges
google.com, pub-9809009992858082, DIRECT, f08c47fec0942fa0
Public finances have contributed a lot to Chinese growth, in particular through public investment implemented at the local level, in particular since the 2008 crisis. In 2019, Chinese public spending represented 24% of GDP according to official statistics, but 36% according to the IMF, against 41% for the OECD.
Reading China's public finances is complicated by the fact that the Constitution and the law only set out the prerogatives of the different administrative levels (centre, provinces, prefectures, counties, cities) in broad strokes and that very often the national laws are content to state principles, which are then applied locally with great leeway. Moreover, the public accounts are structured according to an opaque and complex methodology, the scope of what is or is not covered by public action being vague, and the distinctions between local and central levels sometimes difficult.
The public accounts structurally record a significant level of deficit and debt. These two measures have significantly worsened in recent years, particularly under the effect of the Covid-19 crisis (see Chart). The situation at the local level now appears to be an issue of financial stability, this level officially concentrating 57% of the total public debt, contracted in relative opacity.
If local financial risks are high, a systemic crisis in the short term seems unlikely, given the central guarantee and the holding of a large part of the debt by large banks or local public entities.
In the long term, the imbalances and risks related to public finances are a brake on growth and its necessary rebalancing, from investment to domestic consumption. Despite the proactive posture of the authorities and the repeated recommendations of international observers, the implementation of the reforms on the agenda since 2013 remains slow and fragmented.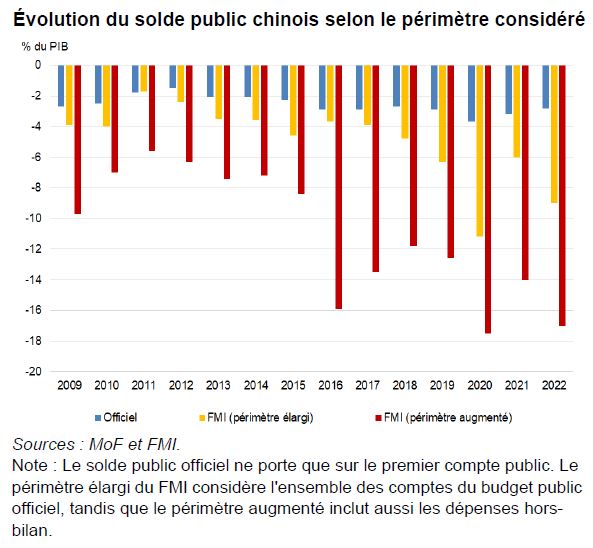 + Other publications to consult on the subject:
+ See the entire collection of Trésor-Eco studies: French / Français
+ Subscribe to the Trésor-Éco collection: bit.ly/Trésor-Eco