Apple: Is Warren Buffett's favorite stock still a buying opportunity?
google.com, pub-9809009992858082, DIRECT, f08c47fec0942fa0
Apple (NASDAQ:) is the largest holding in Warren Buffett's portfolio. It was at the origin of a real technological revolution and is today the first company in the world in terms of market capitalization, with a value of more than 2.6 trillion dollars.
Apple designs, manufactures and markets mobile communication and media devices, personal computers and portable digital music players. It also offers a range of software, services, accessories, connected network solutions and third-party digital content and applications.
The Company's segments are Americas, Europe, Greater China, Japan and Rest of Asia Pacific.
The Americas segment includes North America and South America. The Europe segment includes European countries, India, Middle East and Africa. The Greater China segment includes China, Hong Kong and Taiwan.
The Rest of Asia Pacific segment includes Australia and Asian countries that are not included in the company's other operating segments.
Its products and services include iPhone, iPad, Mac, iPod, Apple Watch, Apple TV, a portfolio of professional and consumer software applications, iPhone OS (iOS ), OS X and watchOS, iCloud, Apple Pay, plus a range of accessories, services and support.
Data at a glance
Let's take a look at historical financial statements usingInvesting Pro. We can draw several useful lessons from this.
Over time, revenues and profits seem to have a very steady upward trend, especially profits. Margins average around 40%, also constant over the years, which shows that the company manages to increase its sales without affecting its margins.
This is largely due to Apple's competitive advantage over its rivals.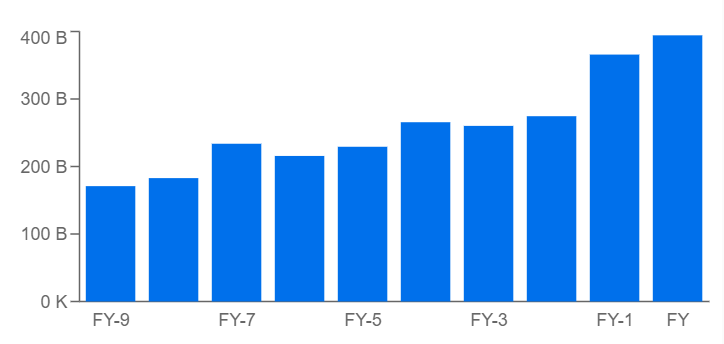 Source : Investing Pro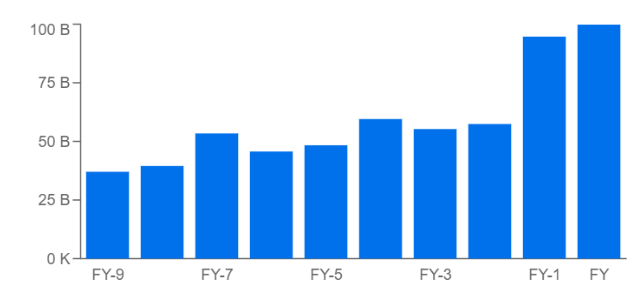 Apple's Net Income Trend
Source : Investing Pro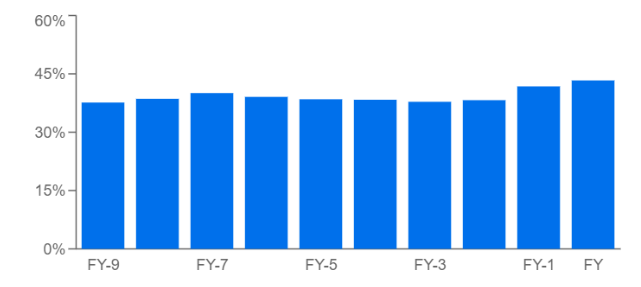 Apple's Gross Profit Margins
Source : Investing Pro
The compound annual growth rate of EPS (diluted earnings per share) has been 18% over the past 10 years and is increasing steadily.
Source : Investing Pro
Balance sheet and cash flow
According Investing Pro, Apple has more than $48 billion in cash and short-term investments, with total current assets of about $135 billion. However, compared to current liabilities ($154 billion), this amount is suboptimal as a current balance.
Apple has over $120 billion in long-term investments. The debt to equity ratio could also be better, with total liabilities exceeding equity by 6 times.
When it comes to cash flow, operating cash flow is on a good upward trend, along with earnings, as is free cash flow, as shown in the chart below.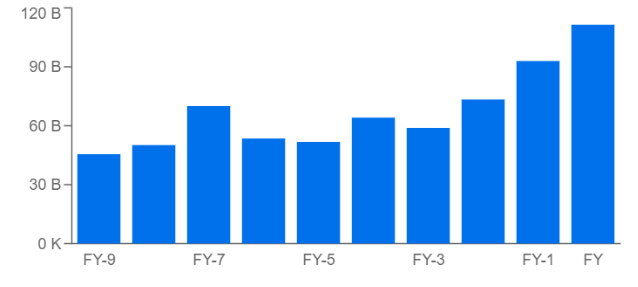 Apple's Cash Flow Statement
Source : Investing Pro
With free cash flow of $111 billion (the last available), FCF's yield is around 4.2%. It's positive, but not optimal.
Valuation
The stock is currently more expensive than its fair value at $147 (based on the average of 14 different models available on Investing Pro). Analysts are more bullish today, with an average price target of $169. This price is close to the current value.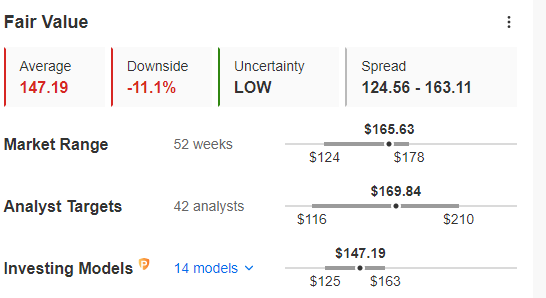 Apple's Fair Value
Source : Investing Pro
Overall, growth prospects are still present, despite the current momentum and the fact that the whole technology sector is going through a period of relative weakness.
So far, it is a good title, but without any particular discount. However, the fact that it has been Buffett's main investment for years makes it an attractive long-term investment.
This analysis was carried out using the tools ofInvesting Pro.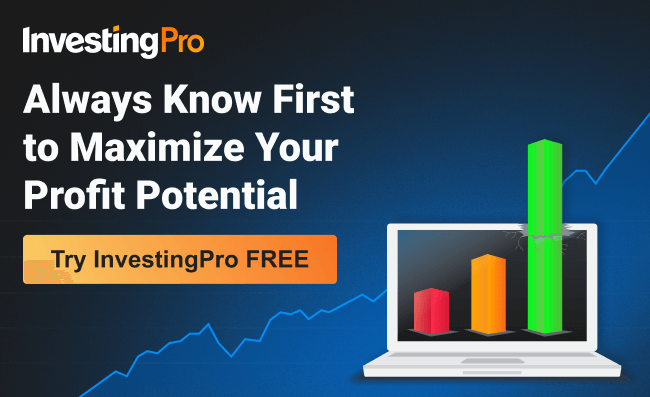 Investing Pro
Warning : This article is written for informational purposes only; it does not constitute a solicitation, offer, advice, consultation or investment recommendation and as such is not intended to induce the purchase of any asset. I would like to remind you that any investment is evaluated from multiple angles and presents a high risk; therefore, any investment decision and the associated risk remain with the investor.