4 Stocks to Buy Ahead of ECB Meeting, According to InvestingPro
google.com, pub-9809009992858082, DIRECT, f08c47fec0942fa0
The current scenario of high interest rates favors the financial sector
The US banking crisis has brought the valuations of European banks and insurance companies back to more affordable levels.
The soundness of the European banking system does not present any particular systemic risk.
Here are 4 stocks to buy before the ECB's decision, according to Investing Pro
The panic triggered by the US banking crisis has spread to Europe, dramatically reducing already low valuations and making European banks and insurance companies attractive investment options.
In the meantime, the financial sector has been the main beneficiary of the rise in interest rates, thanks to the increase in interest margins and the improvement in overall income.
The European banking sector is subject to greater supervision and control than its American counterpart. A situation similar to that of the Silicon Valley Bank is therefore much less likely.
In addition, balance sheets and regulatory guarantees (on cash and loans) have improved considerably in recent years.
After the Fed, it is the ECB which should raise its rates by 25 basis points to bring them to 3.75%. The following four stocks could benefit from the current scenario of rising interest rates.
1.

Bank

Santander
Banco Santander (NYSE:) is a Spanish bank with growing profit margins and revenues that has already shown a trend towards mid- to long-term sustainability in its recent .
It has always exceeded analysts' estimates. Although I believe the quality of Credito Emiliano's balance sheet is superior, the discount to fair value is larger, just over 50%.
Source : Investing Pro
2. Zurich Insurance (SIX:) Group
Switzerland, another victim of the banking panic, also offers some good deals, notably the insurance giant Zurich Insurance Group (OTC:).
The insurer has an average quality score of 3/5 on Investing Pro. But the discount to fair value makes the stock an attractive investment option.
Source: Investing Pro
The chart below shows that over the past five years, relative valuations have been the weak link in overall valuation.
However, after a few years of stagnation, it is possible that the current scenario of higher interest rates (which are expected to be in place in Europe until 2023) will lead to a recovery in earnings and revenue growth. and a substantial recovery in the share price.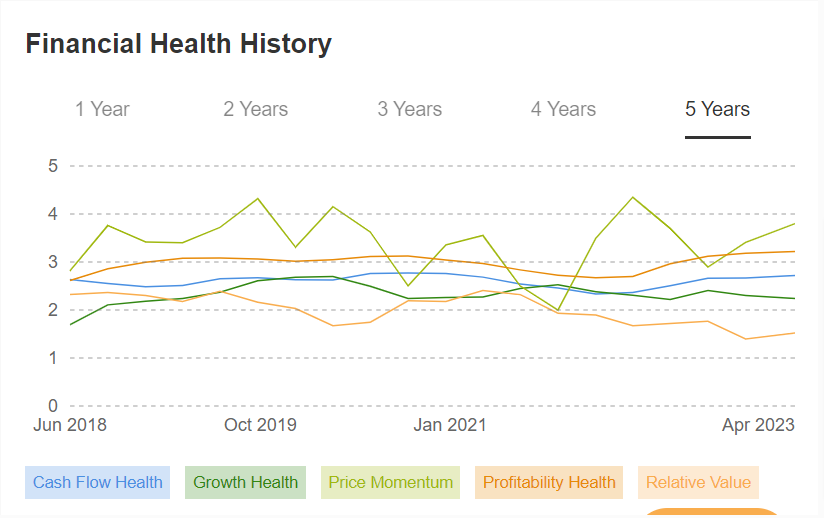 Source: Investing Pro
3. Credit
According Investing Pro, Credito Emiliano (BIT:) enjoys an attractive valuation. This small Italian bank is also one of the strongest in the country, with a liquidity coverage ratio of 232% and a Cet1 of 13.7%.
With rising turnover and an overall health score of 4.5 out of Investing Proit is a good security in which it is possible to consider investing.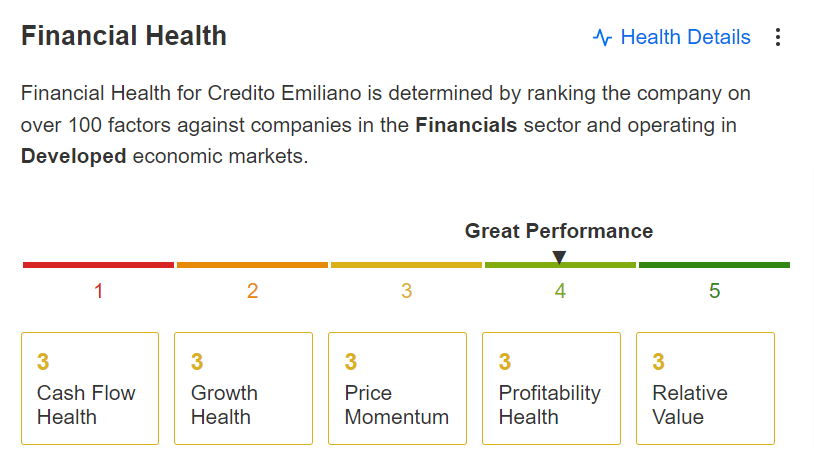 Source: Investing Pro
With a potential discount of around 20%, the fair value is also attractive.
4.FinecoBank
Besides Credem, it is also worth evaluating FinecoBank Banca Fineco SpA (BIT:), which has excellent CET1 and LCR ratios, although valuations are already at fair value.
I used Investing Pro to analyze the titles above. You can access this tool by subscribing via this link.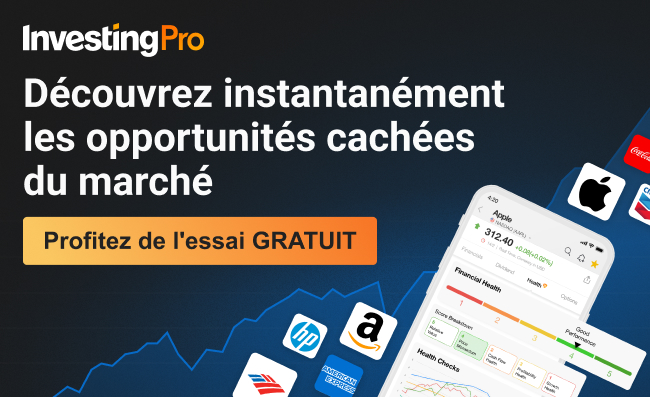 Investing Pro
Warning : the author of the analysis has a long position on Credem. This article was written for informational purposes only; it does not constitute a solicitation, offer, advice, investment advice or recommendation and is not intended to induce the purchase of assets in any way. I would like to remind you that any type of asset is valued from multiple points of view and is highly risky. Therefore, any investment decision and the associated risk remain with the investor.